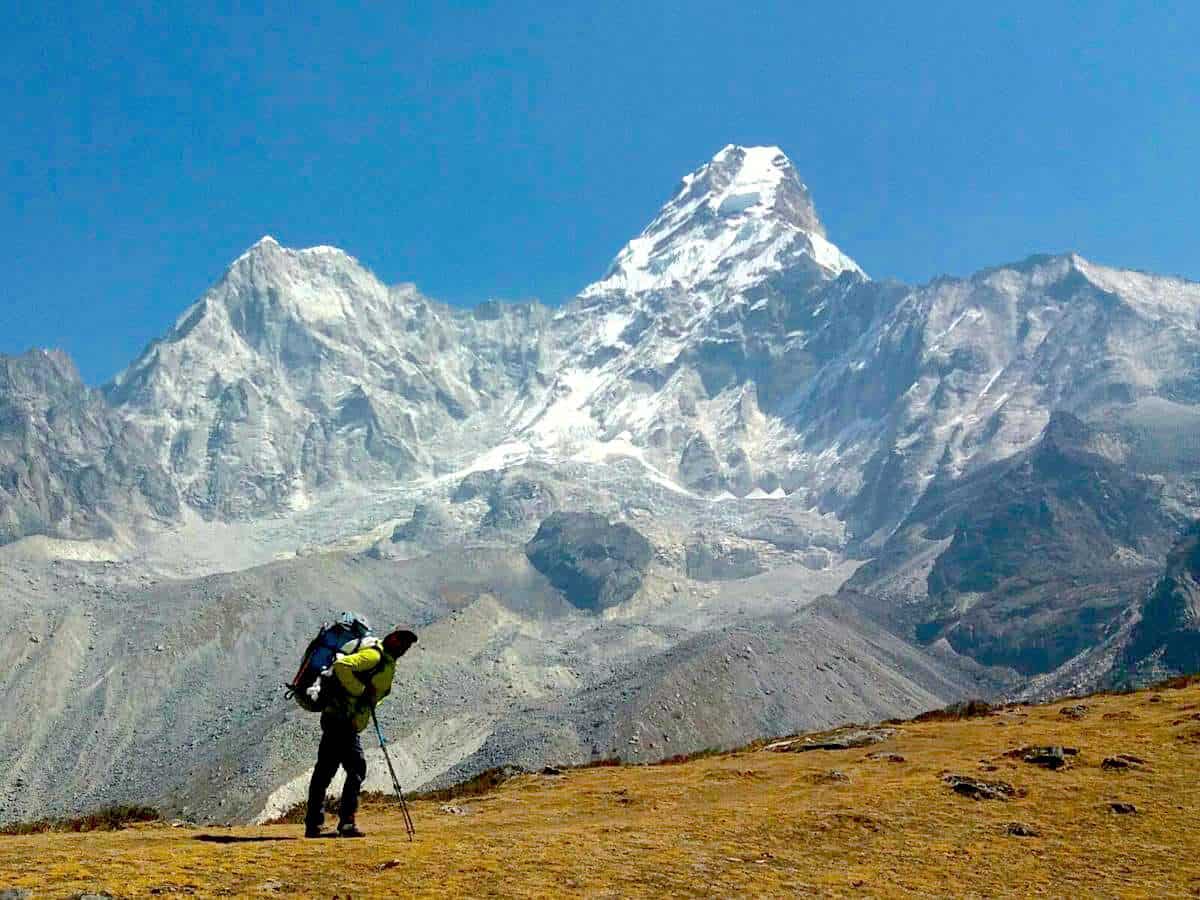 Climbing and climbing - what's the difference?
Let's start by learning not to confuse rock climbing and mountaineering. These are different sports, although often they are engaged in the same people. Therefore, many mountain clubs have sections of mountaineering and rock climbing.

1. A rock climber climbs the rock, using the trained ability to move around the rocky terrain only with the help of arms and legs. The main goal of the climber is to overcome a section of the rock along a certain route. Prestigious is the overcoming of difficult routes.
The height of the track can vary from 2 m (bouldering) to 40 m. Training and climbing competitions are held not only on natural rocks, but also on artificial terrain - climbing walls and climbing stands.
Climbers climb high, often snow-capped mountains, using all technical arsenals for insuring and passing various types of relief: rock and ice hooks, ladders, mortgage elements, various technical means for climbing and descending along a rope, etc.Besides the fact that the mountaineer moves on the rocks, he also passes snow and ice, overcomes mountain rivers.
The main goal of the mountaineer is climbing to the top of the mountain. The height of the mountains can be different: from 500-600 m (Crimean mountains) to the highest peaks of the globe (Everest 8848 m). Lifting routes can also be very different - from simple educational and training to the most complex extra-class routes.

Climbing is sometimes called the "younger brother" of mountaineering, but not in a disparaging sense, but rather in the genealogical one. Overcoming the rocks is part of the preparation of the climber and a necessary condition for his sportsmanship. The introduction of climbing competitions in the process of mountaineering training led further to the separation of climbing in a separate sport (as well as ice climbing).
2. Training in mountaineering and climbing are different. In mountaineering, in addition to working out the technique of climbing, it is also necessary to develop the skills of using equipment for movement and insurance on the relief, the development of tactical thinking and the study of a number of applied disciplines (orientation, radio communication, rescue equipment, etc.).In physical training, special attention is paid to improving endurance (cross-country skiing, cross-country skiing, hiking).

In climbing, the entire training cycle can be held in the training room, as well as many types of competitions. In principle, holding competitions on natural rocks is not only aerobatics, but also a tribute to tradition, and just pleasant impressions from communication with nature and friends. But for working out the technique of climbing and the development of physical qualities necessary for a climber, the presence of a training stand provides much greater opportunities.
Rock climber training has its own characteristics, in relation to the conditions in which it is necessary to overcome the rock relief during the ascent. For example, you can't climb the icy rocks in the rocks, and during the most difficult climbing of Everest, the climbers had to climb rocks of the highest category of complexity at an altitude of 8000 meters, which means in double high-altitude boots, in a down suit and with an oxygen apparatus. Not to mention the load, even the muscles at the same time do not work at all like on a climbing stand.
3. In the competitive period, the load in mountaineering is immeasurably higher than in climbing.For example, if a climber can perform in three or more types of competitions per day and get a corresponding number of credits, then in climbing, a valid climb takes at least 2-3 days, and often much more, depending on the complexity and length of the route, and to a large extent - from weather conditions. For these and other reasons, "bit growth" in mountaineering is much slower.
4. And finally, how much? What is more expensive to do - mountaineering or climbing? The question, of course, is not for all principled, but not idle.

If we consider only individual equipment, then a rock-climber at a minimum needs only rocky shoes, a harness, a helmet and a bag of magnesia. Plus pay for classes at the stand, but for the money he uses and ready-made routes, and safety equipment.
At the climber the situation is much more complicated. In Soviet times, when the mountains took by storm the hordes of green stuffed animals, their own piece of repshnura and a pair of carbines were fabulous wealth. Now a self-respecting climber wears on himself and in a backpack a couple of thousand dollars. If you take only personal equipment, starting with clothing:
down jacket, down vest, down sleeping bag;
moisture and windproof suit (Gorteks), a backpack, boots (but not simple, but plastic "koflachi");
safety system, helmet, several carbines, safety and launch device;
ice ax, ice hammer, cats, ice fifi ...
It already pulls on the above amount. Of course, you can do without something at first, but it is clear that you can't climb a snowy mountain in the workout.
The next item is the cost of travel, accommodation and meals. You cannot reach the mountains by tram and you will not be accommodated for free on the territory of a mountaineering base. It is also necessary to eat something, and not less than within a month, otherwise the game is not worth the candle. And you can't drag potatoes into the route, so it turns out that food is also a good price.
Well, happiness is not in money, and not even in their quantity. What people get from communicating with the mountains, you can not buy for any money. The main thing is that you will not tell, and you will not understand, until you try it yourself. At least out of sheer curiosity.

Also mountaineering is not a full-fledged sport. What is the main difference from such a discipline as rock climbing.Climbing is pure sport, it has all the signs of this: qualification for discharge, the statute of the competitions, the presence of spectators, the evaluation of the result.
Also, a distinctive feature of climbing from mountaineering is a lesser threat to life and health, because the ascent is often carried out with insurance and it is more controlled, although no risk can be ruled out, because no one has canceled the human factor.

Rock climbing includes 3 different types of competitions:
bouldering (climbing boulders) - a series of short runs from one and a half to six meters (the number of runs and attempts);
speed climbing (who is faster);
climbing on difficulty (who will climb higher).
Climbing is possible at any age - in contrast to mountaineering, which requires considerable physical training and experience. And in order to photograph the best moments of your ascent or conquest of the peak, purchase a special camera that is easily mounted on your body.
As you have already understood for yourself, mountaineering and climbing are not just a sport, but a way of life. Having tried once, it is impossible to imagine your life without it. Rocks always leave an unforgettable experience!

On the rocks you learn to control your body and emotions. But whatever you choose: mountaineering or climbing - know that these are universal remedies for bad mood and the ability to keep yourself in good shape.
A source:
Take it to yourself, tell your friends!
Related news