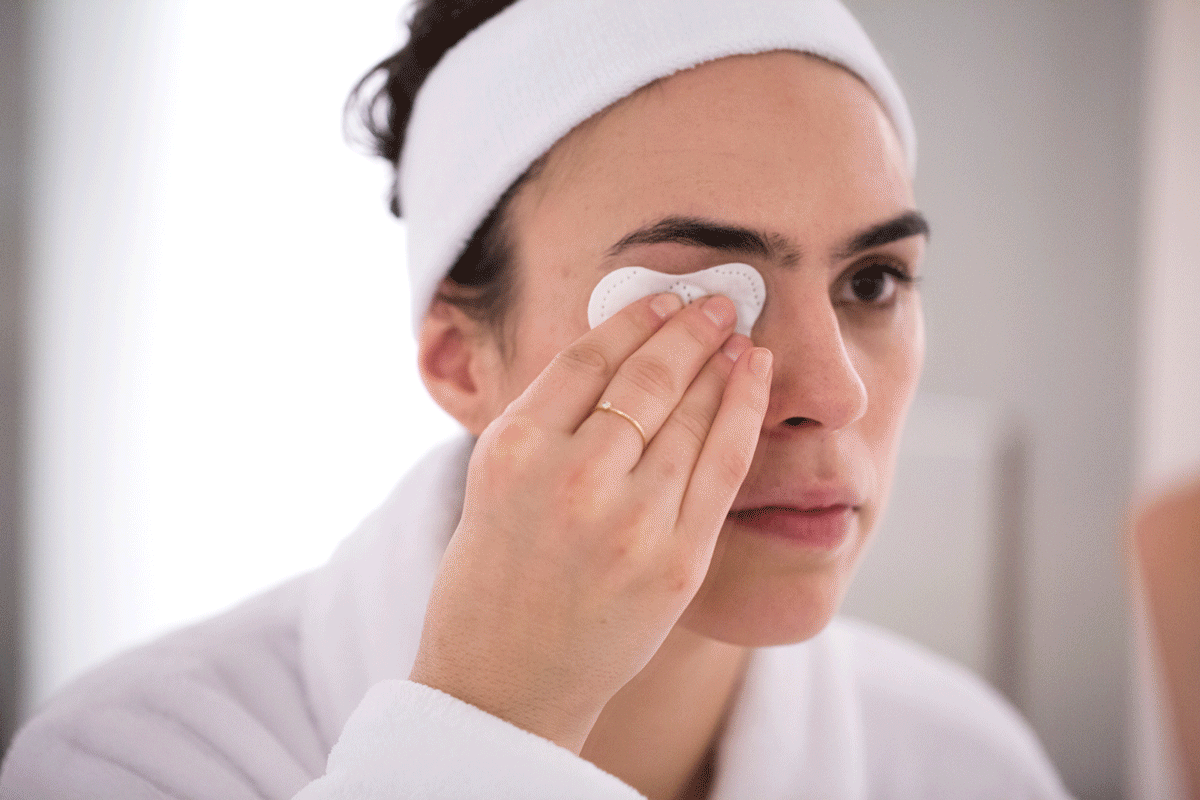 Anastasia Sergeeva
17.07.2017
How to wash off cosmetics? Makeup Remover Review
We used to wash off cosmetics with milk, lotions and gels, but now the market of cosmetics for cosmetics does not cease to amaze us with new and new make-up removers. Foams, micellar water, hydrophilic oil - which makeup remover is better for different skin types? It's time to thoroughly understand this issue!
Cleansing Milk
Many women have chosen this type of cleansing agent, which contains milk lipids in its composition. It gently cleanses the face of cosmetics, and moisturizes the skin and enriches it with vitamins.
However, not all can be limited only to milk with make up, since its use often leaves a feeling of incompleteness, a certain fat content on the skin, and implies the further use of tonic. Therefore, owners of oily skin can look for another tool, but the combined, dry and sensitive skin will be quite happy and milk.
Lotion
Another common means for washing and makeup removal is lotion, which is usually a water-alcohol solution. It consists of various active substances that provide additional skin care, for example, vitamins, herbal and vegetable extracts, and even organic acids. Use lotion, putting it on a cotton pad and wiping his face with it.
It is worth noting that because of the alcohol content, lotion is not the best makeup remover that owners of dry and sensitive skin can choose for themselves. But with a combination, oily and problem skin lotion can handle it with a bang.
Gel
The composition of the gel for washing includes surface-active substances, which, when cleared, bind all skin impurities and remove them from the surface of the face. Such products are usually well washed and foamed slightly, although not as actively as special foams. The composition of such a gel sometimes includes additional components that help relieve inflammation, dry them, regulate sebum and fat secretion. And some gels can boast of the content of small abrasive particles, which work as a scrub, but then they cannot be used on a permanent basis.
In principle, the owners of any type of skin can equally well use the gel, the main thing is to choose the product from the line that corresponds to your type of epidermis. Recently, however, the gel as a means for removing makeup and washing began to lose its popularity, due to the appearance of other, softer and more narrowly targeted cleansing agents.
Foam
Facial cleansers are named because of their foamy texture, which is very well suited for removing fat, thick layers of makeup and even sunscreen that is hidden beneath them. However, such a makeup remover may seem unnecessarily hard to someone, because it dries the skin slightly. But now in the shops come across lighter skins, with oils or other emollients, providing a moisturizing effect.
There is one detail in the use of foams: many use them completely wrong, that is, they immediately squeeze the product onto the palm and begin to rub it on the face. The right thing is to wet your hands in water, apply the product on your palms, and then rub it in your hands until foam forms. And only then apply on the face exactly this foam, gently massaging the skin.After applying the foam, rinse thoroughly with water and apply a suitable moisturizer on the face.
Facial wash as a makeup remover is great for owners of combination, oily and problem skin, with acne, acne and black dots. But people with dry and very sensitive skin should choose another cleanser.
Cream products
There are also makeup products with a creamy texture: they are usually very gentle, moisturizing, and in all respects are similar to a conventional skin care cream. Their peculiarity is that they contain occlusive ingredients that prevent the evaporation of moisture from the skin, for example, beeswax, petrolatum, mineral oil. At the same time, they remove makeup and dirt well.
Sometimes creamy products do not require water when used, but are simply applied to the skin with massaging movements and then wiped with a clean cloth. But this type of cleansing involves the subsequent use of toner or wet wipes, which can be used to remove excess cream "cleaners."
Naturally, such a soft makeup remover is well suited for sensitive skin, as well as skin with a lot of inflammation,which cannot be injured by excessive mechanical cleansing and peeling. It is also great for very dry and fading skin. But the owners of oily and problematic skin should avoid cream side products.
Micellar water
Micellar water is a very attractive name in terms of marketing, which means a makeup remover with a water base and free of soap. When the dirt and grease from the skin reacts with the surfactants of this makeup remover, their molecules fall into tiny clusters called micelles. Since micellar water consists of hydrophilic and hydrophobic components, hydrophobes are engaged in the absorption of skin contaminants, and hydrophilic at this time attract moisture - they give our skin a feeling of purity.
In order to properly use micellar water to remove makeup, you will need to apply the product on a cotton pad or a piece of cotton, and then wipe your face with it. After completing the cleansing stage, do not forget to moisturize your face with a cream.
Micellar water is an excellent option for dry and sensitive skin, which also suffers from acne.Experts also recommend combining micellar water with cream makeup remover tools to make the purification more gentle. But keep in mind that it is better for owners of oily skin and just lovers to wear a dense mask of cosmetics on themselves every day to search for a more suitable makeup remover - micellar water may disappoint them.
Hydrophilic oil
Oil makeup removers do not contain water at all, only oils and emulsifier, and they come into contact with water only when applied to the skin. Due to this feature, the hydrophilic oil is able to mix with water, and very well purifies heavy tonal resources and in general any makeup, and at the same time nourishes the skin and makes it more velvety. The power of this remedy is really amazing: hydrophilic oil can wash off even makeup and even cosmetic masks.
Many people use this makeup remover as one of the cleansing steps, for example, they wash off the main layer of cosmetics with oil, and then complete the process of washing with foam and apply tonic on the face. Apply hydrophilic oil to the skin in a small amount, literally 5-6 drops or one or two presses on the dispenser. Massage your skin and then wipe your face with a cloth.We then recommend using another light cleanser, not necessarily a foam, but, for example, micellar water or tonic, which will remove makeup residue and moisturize the skin.
Hydrophilic oil is usually advised for any skin type, especially dry and sensitive. But the owners of oily and problematic skin leave rather contradictory reviews: someone fits the tool perfectly, and clogs the pores with others and causes the appearance of new pimples, therefore we advise you to experiment a little.
See also: Effective cosmetics from the pharmacy, which cost a penny
Take it to yourself, tell your friends!
Read also on our website:
What is SPF: use sunscreen properly
If you use sunscreens at best once a year, going to the beach, and have no idea what SPF is, then this material is for you! We will tell you why you should protect yourself from the sun all year round, and explain how to choose a sunscreen and use it properly.
How to restore skin to youth with the help of paraffin therapy?
Paraffin therapy is becoming increasingly popular: it helps to restore smoothness, elasticity and freshness to the skin, and can also be an addition to the treatment of certain diseases and defects, including cellulite, pigmentation, diseases of the joints and much more. And we will tell you everything you need to know about this procedure.
Neck Skin Care: Prevent Aging
It has long been known that first of all the age of a woman is given out by the arms and neck. But if at the hands of the ladies still more or less watch, then the neck is given unfairly little time! Therefore, today we decided to talk about what should be the right care for the skin of the neck, so that it remains taut and smooth.
Why are lips cracking and sticking up? Getting rid of the problem
In the autumn, when the cold and windy weather remain with us on an ongoing basis, many are beginning to be disturbed by the problem of cracks in the lips and in the corners of the mouth. The condition is rather unpleasant, and it also looks unattractive. Let us find out why the lips are cracking, why the blisters appear, and how we can fight this.
How to make heels smooth and beautiful at home
Every girl wants to be beautiful from head to toe, but sometimes it is with them that you have to tinker the most. Coarse skin, cracks and corns do not mix very well with the image of a real lady! What should be the care of the heels, so that they are always in perfect condition? Share tips in this article.
Korean facial treatment that keeps skin young and healthy
Korean cosmetics and multistage skin care in Korean have become the real beauty trends of recent years, largely due to which the beauties from the Country of Morning Freshness look much younger than their western peers. Well, it's time for us to take note of the secrets of how Korean women look after their faces!
Effective cosmetics from the pharmacy, which cost a penny
Do you think that only what is expensive is effective? We hurry to dispel this stereotype! We present you really cheap cosmetics that work as well as, or even better than, many expensive products: they will allow you to save money and help in a variety of situations!
How to get rid of black dots? Only proven funds
The presence of black spots is not only a teenage problem: they can ruin the lives of women and men of any age, regardless of skin type. But unlike acne, it is much easier to fight acne! Next, we will explain how to get rid of black dots and what are the possible reasons for their appearance.
How to effectively get rid of wrinkles at home?
The appearance of superficial and mimic wrinkles can be countered not only with the help of expensive salon procedures, but also thanks to massage, facial gymnastics and folk remedies that can be prepared independently. How to get rid of wrinkles at home - tell in this article.
The whole truth about the Black Mask: saving ourselves from the black dots
Recently, the Internet has been talking about a new cosmetic for skin from China, which, after its first use, cleans the pores of the face from black spots. The name of this tool is Black Mask Bioaqua. Is this mask really that good? Look for a detailed review of the product in this article.
How to make cosmetics handmade with skin benefits?
Is it hard for you to choose skin care products for your skin? Do not despair - handmade cosmetics will help to cope with any shortcomings! All ingredients are selected individually, so you get the maximum benefit.
How useful is the golden mask really?
If you have been dreaming about luxurious cosmetic procedures for a long time, a golden mask is what you need! The main thing is to understand what luxury is: in the composition of this tool or the effect it has. Learn more about the miracle tool with our article.
Related news