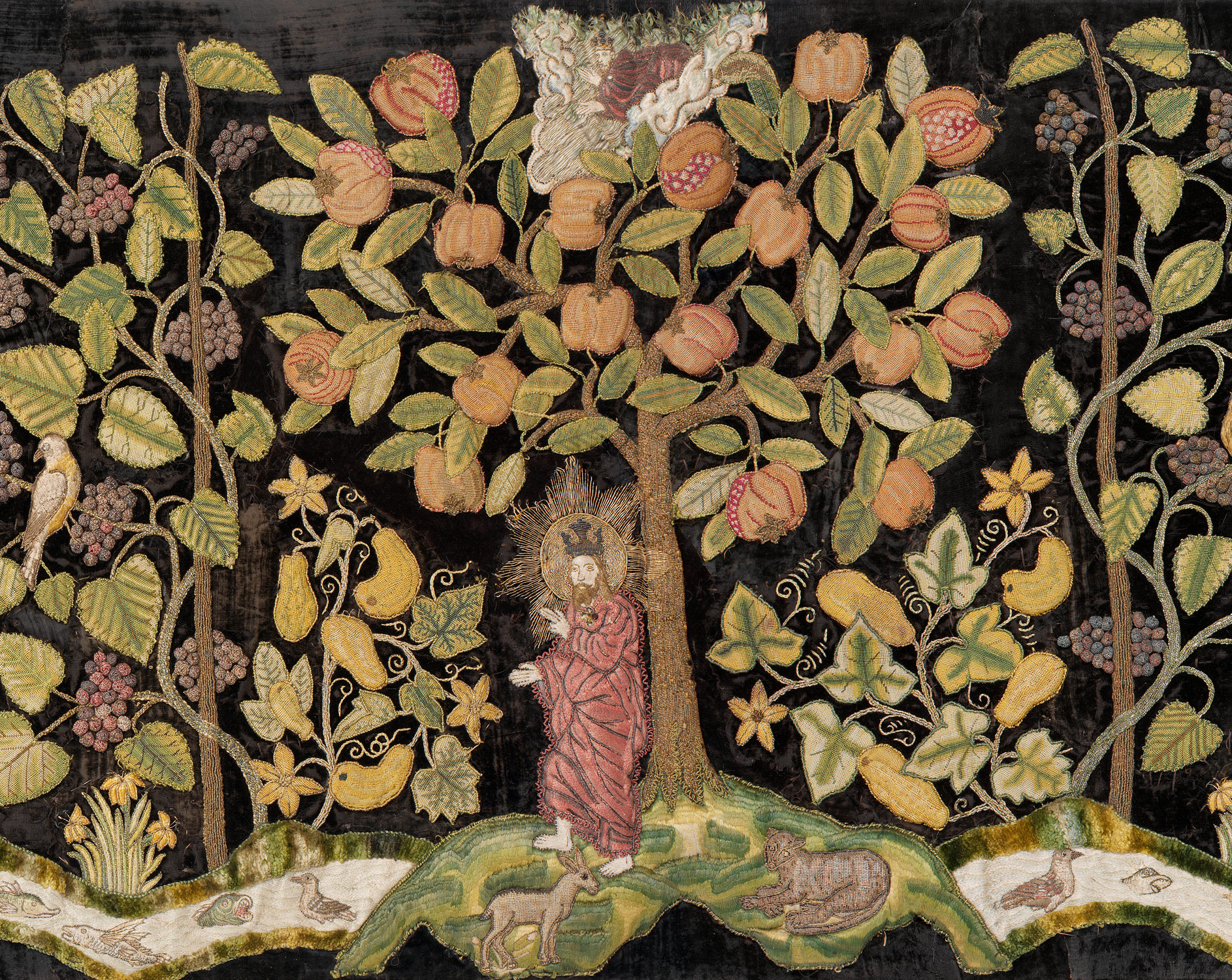 Embroidery history
Let's talk a little about embroidery. After all, it is one of the most interesting and common types of art, and folk. We usually call it handicraft.
Cross - the first type of embroidery
It is believed that the appearance of sewing is associated with the first stitches that primitive people made when they fastened the skins of dead animals. For them, then it was a necessity. Next came the embroidery, which was an addition to the sewn clothes. With the help of embroidery outfits differed from each other, were not uniform and not the same. The various ornament allowed to stand out to the different people.
"Embroidery is the decoration of various materials or already finished products with ornaments or plot patterns with the help of threads (silk ribbons, beads and other materials) and needles (embroidery machine)." At different stages of the development of civilization and periods of life, people used different tools for this activity. Gold-plated, bone, bronze needles and a stone awl can also be attributed to them. With the modernization of the tools themselves, the embroidery itself was changing, it could be complicated. So there were new ways and methods of embroidery. It became possible to perform complex drawings.A person with the help of an embroidered picture could reflect his idea of ​​the world around him, mark his geographical position, show traditions and customs.
The oldest surviving embroidery
There are embroideries that have survived to the present day. They were made in the IV — V centuries BC. in ancient China. This country has had a great influence on the development of this art in countries such as Japan, Russia and others.
Remember Russia. There embroidery was a favorite folk art. Women and girls sat embroidering in the evenings, embroidered holiday gowns. They owned this art to perfection, because the ancient rituals and customs were based on it. Towels, tablecloths, towels, sheets, curtains, as well as sundresses, shirts and headdresses were embroidered. With the advent of Christianity in Russia, icons and mirrors decorated embroidered things.
Embroidered motifs were diverse and carried their meaning, they also could and were used as amulets. Especially for cross stitching. It was believed that the cross protects against the evil eye and evil forces. Until the 17th century, representatives of nobles and nuns were engaged in embroidery.They used expensive fabrics, pearls, gold threads and precious stones to decorate, but then this skill became obligatory for peasant girls who prepared a dowry for their wedding in advance.
Using tradition
And today we can plunge into this needlework with the head, choose any motifs, landscapes, select frames, embroider beautiful paintings, and exhibit them at exhibitions. In our stores there is an abundance of material and items for embroidery, special magazines for beginners with a ready-made set of threads and patterns have been created. Good luck and creative success!
Ancient codes in the ornaments of Slavic embroidery:
Take it to yourself, tell your friends!
Read also on our website:
Beadwork embroidery for beginners - a trendy type of needlework
Biskornu are small pads of unusual shape that captured the minds of needlewomen around the world! You will learn how to embroider and fold cute things that can be used as needle cases, the basics of decoration or cushions.
Cross Stitch - Fun Bags
Cross-stitch is a popular type of needlework today.Not only embroidered napkins and tablecloths look good, but also a variety of accessories: bags, cosmetic bags, belts, covers for mobile phones, glasses. They will help you create your image, as well as make an original gift to friends and family.
New life to old things: cross-stitch for beginners
Want to add originality to your things? Make a fashionable thing out of a usual boring shirt or give a new life to old jeans? Cross stitching is a great way to decorate your wardrobe. This article will help novice needlewomen to cope with the task.
Cross stitch patterns - decorate napkins
Cross-stitch patterns - many needlewomen are interested. They are widely represented in special literature and on thematic sites. It is better to start with small items, such as napkins. The napkins embroidered with your hands will look very beautiful both in everyday life and on a festive table.
Cross-stitch patterns and tips on using them
One of the most popular types of needlework is cross-stitch. Embroidery patterns should be able to read by every needlewoman. There are three main types of schemes.Understanding the value of all options, you can choose the best for your product.
Cross-stitch - where to start?
You are attracted by cross-stitch, but you do not know where to start? Before you go to the store to get what you need, find out what you need as a beginner. These useful tips will help you choose the right embroidery needles, threads and other materials, get down to business that will soon become your favorite, and achieve mastery in it.
Cross-stitch for beginners: two ways
Cross-stitch for beginners, simple instructions and tips from experienced needlewomen will help to show their imagination and create a product that will decorate any interior or complement your image. With one of the easiest ways to embroidery, you can easily create a work of art.
Savings should be economical.
Cross-stitch is a fascinating and interesting hobby. You can always admire and admire the work of professional craftsmen. After all, these works of art require a lot of time, effort, attention, patience and concentration.If you are engaged in this handicraft professionally, then it requires certain material investments. Do not be scared!
Cross-stitch: the basics of counting technology
Not so long ago, every woman knew how to hold a needle in her hands. Cross-stitch embroidery for beginning needlewomen is an occupation that opens a new world of creative self-realization to them. The main thing is to have enough desire, perseverance and attentiveness.
Choosing a scheme for cross stitch
When I had a desire to embroider a cross, I naturally thought about the design I would like to see in my work. Immediately the question arose: how to find a scheme for it and is there an opportunity to find a similar idea in ready-made options and in good quality on the Internet?
Which needles to choose
You have decided that cross-stitch is your new hobby, you have viewed hundreds of photos of finished works on the Internet, have already read articles for beginners, and now do not forget to choose the needles correctly. They play an important role in the beauty and accuracy of your embroidery.
Cross-stitch for beginners
Cross stitch for beginners is what you need. A fascinating and interesting hobby that will help you to try your hand, to show perseverance, accuracy and care in creating beautiful work.
Related news