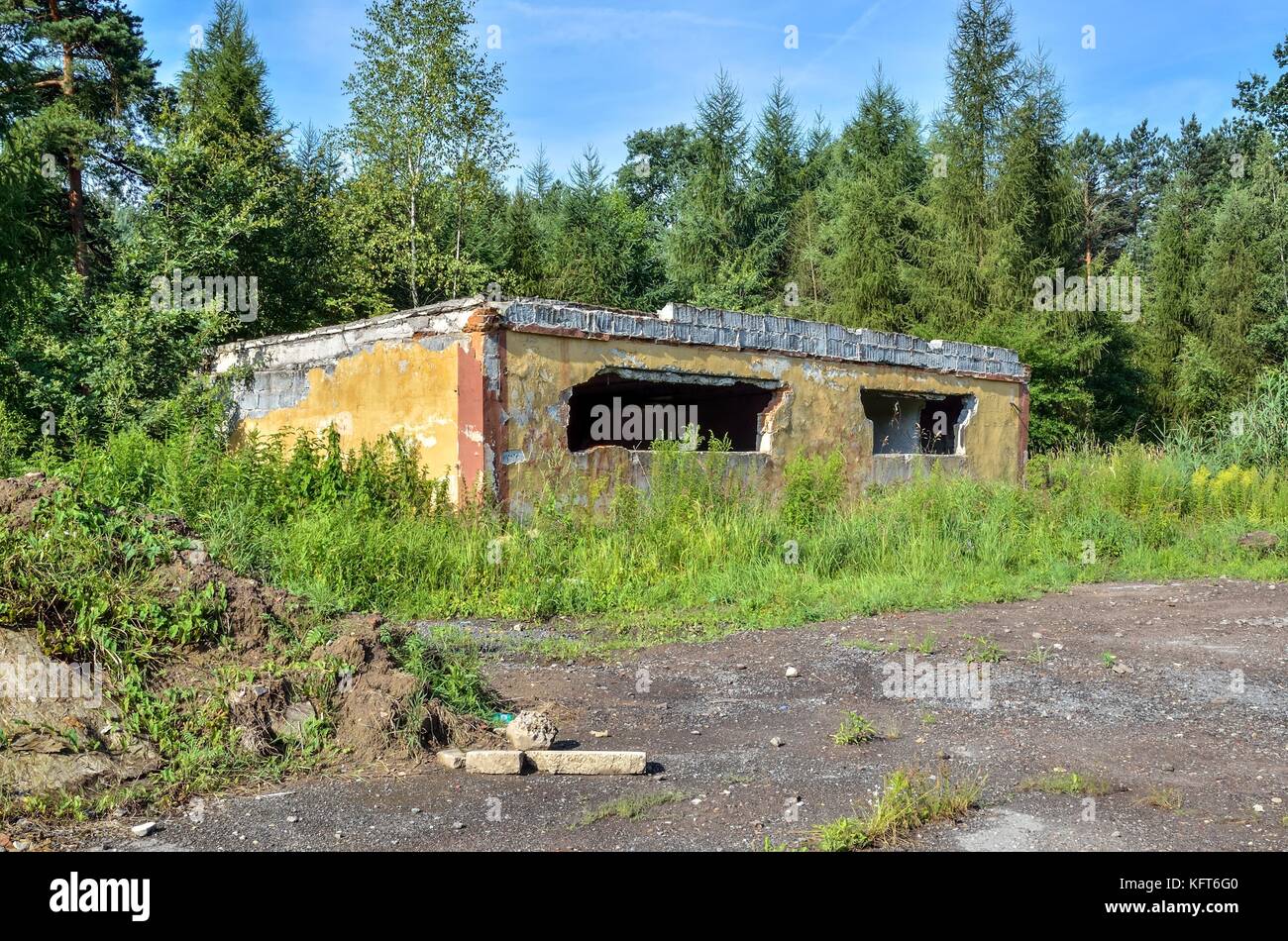 Abandoned military unit
In the nineties, we chummed with a sidekick tsvetmet on abandoned military units of the Moscow region and handed over to buyers. That and lived. Families need to be fed?
Do not think the bad - derbanil, really, only abandoned, abandoned. Even the "canned goods" were not touched, although the catch there would have been richer. Our then fishechka - collected info about "sekretki", where, often, even the usual roads were not laid, only an underground narrow-gauge railway. Well, the site for helicopters could be disguised from the satellites. Yes, such parts really existed. And now, probably, exist.
They drove closer to the well-worn "UAZ", hid, took tools, backpacks and went to their destination. There they were tearing and sawing what they could, mostly, of course, copper, tin, brass and other technical alloys. Silver also came across. Well, a couple of times they collected some gold and palladium. Rare and dangerous luck, which almost went sideways - the time was wild, gangster ... However, this is a separate story.
Military unit
So here. The mushroom pickers have guided us to that part.Characteristic signs - an antenna tower, a sly thorn under step voltage, everything. Various mushroom pickers, fishermen, and others like these have been guided before - and we did not remain in debt. Mushroom pickers, foresters, hunters ... They gave us information about the "sekretki" and poured. And we always shared with sales. Let a little penny, but no one was forgotten. So they always remembered us and brought us to the places. Well, those who did not venture to crawl for the thorn - or, on the contrary, already burned themselves on such attempts and understood that everything is not so simple.
Well, it means, we drove up, checked the map, drove the transport deeper into the forest, forced it with branches. And the track, too, cleared, just in case. Reached quickly - the forest was quite serious, but not thicket. And the distance is small - about half a kilometer somewhere. Fine. Moreover, the weather was good, Indian summer that year turned out even better than the present.
The thorn, of course, was de-energized, but we checked it just in case with special probes before approaching and cutting the passage. Behaved quietly - you never know ... And very correctly, as soon as it turned out.
In such parts, the main volumes, of course, are always with earth. But we tried not to look down — usually the tunnel and the adjacent service premises were below, and this was all either undermined or preserved before the liquidation.Could and mine, probably, from especially curious. I did not want to find out.
Gone hangars, barracks - everything turned out to be untouched. Even aluminum cookware in the dining room and that on the spot! Aluminum, of course, was quoted significantly cheaper than copper, but even these spoons – forks in commercial quantities paid off for our raid. However, we were still more interested in outdoor gearboxes and logging with equipment, transformer cabins and garages. Therefore, we did not pack our backpacks, but went further.
Then, when analyzing flights, Vovan and I were very surprised that we didn't feel that something was wrong. Like men experienced and cautious - but it seemed to have enchanted who. On the one hand, of course, everything looked as it should: part of it was de-energized, the doors were wide open, windows were broken here and there, the paths began to grow over with the grass ... There, of course, drafts walked. But if drafts - from where smells? It smelled of something edible, like dried meat. Vova also sensed. And we just joked about it, instead of huddling and dumping quickly. Again, the floor is clean, all the tables and benches are clean, arranged correctly ...A fool is understandable - if a part is thrown at least a couple of weeks ago, everything should already be in dust and divorce. And if it was left quite recently - why are the paths overgrown, why are there so many broken windows? Nesostikovochka ...
And yet - there was no agitation. That is, absolutely. No posters, no panels, no bushes of Lenin, not even flagpoles on the parade ground. Such parts, "sekretki", they, of course, were camouflaged from the eyes from space - nobody cut their lawns there, there are always large trees on the territory, pine trees are usually ... All the architecture under the summer camp is made or under forestry. Even the antenna tower is similar to a lightning conductor and with a weather vane. But here all these "Glory of the CPSU" "Our Motherland - the USSR" and other similar expressions were necessarily present. Or a mosaic, or brick in the wall laid out, or at least paint on concrete. And then - nothing. Should this have put us on our guard? .. Should. But for some reason they did not pay attention then.
In general, they passed the outer zone, went to the block with logging. There, respectively, the second thorn, substation, everything. And where the substation - there are transformers and copper. They were never taken out of the left parts, only those like us could gut.But in this case everything was untouched, strictly zero. And that means - centner of copper, the least. For those prices - for one copper, we would have received about fifty dollars for two people. Well, in those days, fifty "green" - the annual salary of state employees. Draw conclusions what is called.
And here, it means that Vova says that he forgot the flashlight in the dining room. I pull out my - and he almost does not shine, the battery has sat down, overdue, it seems, turned out to be; Such then often sold under the guise of new. And in a transformer box without a lantern, it is extremely inconvenient to dig, even if it is a sunny day outside and all the doors and flaps are taken. I did not want to go back, but we still decided to return. Most likely, this decision saved our lives. At first, Vova himself wanted to run off, but we had the principle that we should not separate during work. Just a principle, a child of bitter experience. We did not feel any anxiety, honestly. Sunny, birds are singing, grasshoppers are jumping in the grass ...
Returned to the dining room. We climbed to the second floor, where Vova had a flashlight and forgot. The flashlight was there, lying on the table by the door to the closet. Vova took it, checked it - it works normally, everything is in order - put it in his pocket and went to the window.
I then asked him - why did he suddenly decide to look out that window? .. He didn't answer anything intelligible and could not. It seems that the window was not close, and we could not see anything interesting in it. Glasses in that window were completely absent, even the fragments almost did not stick out. Anyway, Vovan shoved his flashlight into his pocket, went to this window and looked out at it. Even the mouth has already opened - probably, he was going to say something or spit there. But he froze with his mouth open ...
Well, I, of course, also came up and looked at that window.
There, under the window, there was a dump. There were garbage containers, shiny - it means titanium, sometimes they came across in secret parts. I was glad - to cut the titanium hard, but the game was worth the cost, titan bought up more than aluminum. And then there are hundreds of kilograms of it. I just got ready to slap Vova on the shoulder and say something joyful about this, as I noticed something else.
First, there were bones in the containers, a lot. Top, almost poured. Fresh at all - with dark-red scatters of meat, flies spinning over them ... Already dumb, in the abandoned part. And then I looked closer - I see that the ribs are there, the rib cage is characteristic, then the skull ...
HUMANskull. Stopudovo.And the bones are human too. Fresh at all.
I didn't even get scared because I was scared of the other. What still dreams of me and Vovan in nightmares.
The container was a man with no eyes and no hands. Worse, with a naked torso - and maybe he was all naked, his bottom containers closed. His hands were missing on the shoulders, the stump in the scars and scabs, the orbits were black from dried blood. And he was sitting on his shoulders ... I do not even know who. And I do not want to know, here are niskolechki.
At first I thought it was a monkey. A small chimpanzee, who for some reason was dressed in a tunic and breeches. But it was not a monkey, someone else. More like a man. Only instead of his legs, his hands grew too, short and very powerful. And the wool of this creature was not. It sat by the blind peasant on the shoulders, holding these legs with his hands — his neck. Holding tight, very tight. Sat and dig in that was poured into containers. She took out bones, sucked and gnawed them, and then threw them on the ground. Ate the leftovers, so to speak.
No, it was not a man. Not a child, not a disability freak, and definitely no monkey. It was digging in the tank, occasionally squeezing the neck of the eyeless with its back hands even more - so that it leaned more towards the tank with scraps; he dutifully leaned over.Grunting contentedly, the creature pulled bones from the tank, nibbled them, threw them ... Vovan and I watched him as spellbound. I saw how it took a handkerchief out of his pocket and wiped sweat from his forehead. Then folded and put back. The jacket was with ensigns epaulets - which, probably, may seem ridiculous. But neither then, nor later did we find that Vova was funny. We were mad, desperately scary.
It was in ceremonial uniform, do you understand? .. In uniform with epaulets of ensign. Each epaulet with a matchbox, I guess. Under the uniform of the gymnast. On their legs were short breeches, from their trousers protruded huge, long and powerful palms that held this creature very tightly behind the neck of a blind man. These palms were a little less than the rest of his legs. It is generally very thick and thick, it is a creature. A large round head, a tight neck, under the tunic, folds of fat roll. And a toothy mouth - to the ears, like Pinocchio.
Actually, we did not see his face - if he had a face at all. We looked at him from above and a little to the side. I remember the scruff of the neck, the little pink ear, and the lip of the lipless mouth that reaches almost to this ear.When it opened it, there were large yellow teeth, like a horse or a donkey. Between us was well, twenty meters in total. We then compared with Vova, who saw what - everything came together. Nothing has perished, we remember the same thing.
Here, it means, something squeaked or creaked nearby. The creature tensed, threw the bone, and began either to listen or to sniff. Vova wanted to step back from the window, but I sat down and pulled him down. He understood, we ducked and we were very quiet, on all fours, we crawled a little from the window. We got up and also quietly, trying not to rattle or even breathe less often, moved to the exit. Well, there already rushed to our passage with all the urine. They raced like mad, without dismantling the roads like crazy hares. We ran to the "UAZ", Vova started it and gas up to the highway. They only let us go there - well, when they saw other people, cars, and so on.
In the evening they got drunk on vodka and somehow managed to discuss what they saw. Of course, it was stupid to tangle as we dragged, it was noisy, and you could stumble, pull your leg, or even break it. Moreover, we ran almost without slowing down in the forest. And after all, we had weapons with us - well, like weapons, military pistols of the tenth caliber. Then they sold freely.Of course, this is not a pistol, but if from such a person to get from a few meters away he dies, and it will be painful and frightening to die.
Only here is the creature - she was not a man, although she wore a uniform. And neither I, nor Vova, when they were staring at her, didn't even remember about any rocket launchers. That's right, of course - I doubt very much that if something happened, rocket launchers would help us. Yes, and the machine gun would not have helped, I guess. I think if we hadn't noticed that creature in time and wouldn't run away from there - she would have made of us the same ones as that armless blind man, on whom she rode.
What then? Yes, almost nothing. However, it is still a look. When Vovan and I met those two people who put us at that part, they were very surprised. They were surprised and scared. Well, we already had a separate legend for this case. Say, they didn't get there - like, they got together, but then the car broke down, then Vova pulled his leg, then something else ... And we, like all such kind of looters, getters, people are superstitious - we decided that it would be a bad sign when obstacles like that in a row going. So, like, sorry, thanks for the tip, but this is not ours. Go there yourself or someone else try to sign under this business. And we pass.
They believed - or pretended to believe. About the share of the tip did not even give a hint. And we pretended to believe them, that they believed. On that and went.
Well, what else was left? There was no Internet in our country then, in order to write warnings on all forums and in social networks. The police report? This is completely funny. Somehow these muddy fungi-gunners punish? And for what, actually, and how? That is, how - it was possible to come up with, but it would have turned out to be a separate costly epic with an unpredictable ending. So in this direction, we also did not twitch.
A few years later I told this story to a knowledgeable woman. She immediately asked if we had taken anything from that part. We did not take anything at all, just did not have time. What I told my grandmother. She shook her head and said that if they took, we would have been tracked down and dragged off. Who would have tracked down and dragged off - did not explain.
But I suppose I know who this is about. These were devils, the most real. And that military unit is the exit from hell to the surface. A branch of hell on earth, so to speak, or something like a fostering rest. Maybe there really was an abandoned "secret" was, just devils adapted it for themselves.Or maybe they were so disguised from the very beginning. Well, when Vova and I wandered there, the main devils were away. There was only one small demon, which they kept at the bottom and which was scattered with their scraps. Therefore, we managed to escape.
And the "mushroom pickers" ... Well, maybe they sold the soul, or they had some special percentage sent to the devil. I do not know.
Stupid version? .. And what else could it be? I will never forget that creature, riding the armless blind man. Vova once said that it was necessary, nevertheless, to shoot at least into a blind man - no matter how scary it was to die from the rocket blazing in you, but it was more terrible for him to live anyway. Well, I don't know, I don't know ... I still can't fix the deed anyway.
No, well, really, but what else could it be? .. Toothy, stocky, growing from a two-year-old child, with huge palms instead of feet, in the uniform of an ensign and riding a blind naked man with arms torn off exactly for him? And gnawing human bones — with which, like pigs or cows, were garbage cans stuffed? No, well, really? .. What ?.
Related news